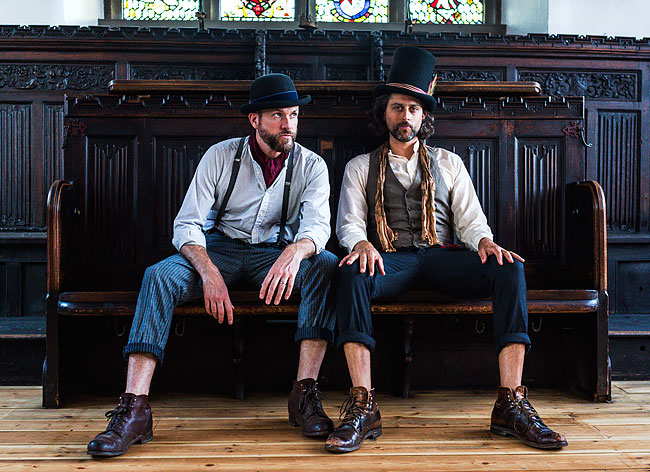 Meet Son of Town Hall, the unusual union of Ben Parker of London, England, and David Berkeley of Santa Fe, New Mexico. Parker, a highly sought-after London-based songwriter/producer/multi-instrumentalist, and Berkeley, a celebrated singer/songwriter/ author create a world that transcends time and space, complete with Victorian-era outfits, meditations about the sea and songs that beg you to sing along. The show is three-parts concert, one-part theatre. It will leave you transformed, with your heart full of laughter and tears, drunk on adventure and the tragic beauty of the human condition.
Son of Town Hall was born when the two found themselves side by side aboard a junk raft ("The Son of Town Hall") crossing the mighty Atlantic in search of new lands, new inspiration, and to recover squandered fortune. The two have sailed their ship back a century or so, and their song and story cycle follows the pair across the open waters and from town to town as they travel the frontier bouncing primarily from one failed endeavour to another. Though they fall for temptation and countless false promises, their belief in humanity and each other never flags.
Their struggles have only strengthened their harmony, a blend that would have made Simon and Garfunkel take to drink and push off to sea as well, had that duo been fortunate enough to hear Son of Town Hall sing. "Perhaps it was the solitude out there," Parker explains when we caught up with the bearded duo off the coast of Maine, "or maybe it was the strong gratitude you feel for your companion as you make it through your first (or twelfth) near-death experience. Or maybe it was all the cheap rum we consumed… well whatever it was, we learned to sing out there. More importantly, we learned to sing together."
"You learn a lot on the high seas," Berkeley adds. "Skills and endurance you didn't know you possessed, you know?" We didn't exactly know, but we let him continue. "Music and storytelling kept us afloat, kept us alive, really. That was the bond. We developed a blend and a sound that led even the sea creatures and the moon to pay attention. We just had to hope that it would translate if and when we ever reached the shore."
Well, as anyone at Son of Town Hall's packed shows across America or Europe can attest, their sound has translated just fine. Audiences consistently leave a show swaying like they've been to sea themselves and muttering that they've never quite experienced something like it. If the early indications prove true, the two will soon need to build a bigger boat, for everyone who floats near them wants to jump aboard.
"It's part balladry, part performance art, and totally cool.  American singer-songwriter David Berkeley and Brit Ben Parker have taken a step back in time with the creation of Son of Town Hall. Think Simon & Garfunkel lost at sea, and you get a sense of the mythic world at play here." – Philadelphia Inquirer
"Sensational!" – John Platt, WFUV
"Nothing short of stunning" – Lisa Schwartz, Director Philadelphia Folk Festival
"Unique and beautiful…unforgettable." – Phil Collins (Austin, TX)
"Purposely timeless yet anachronistic, a sort of aural steampunk" – Santa Fe New Mexican
Contact
Bob Paterson – BPA Live
+44 (0)1359 230357
bp@bpa-live.com
All content copyright BPA-Live