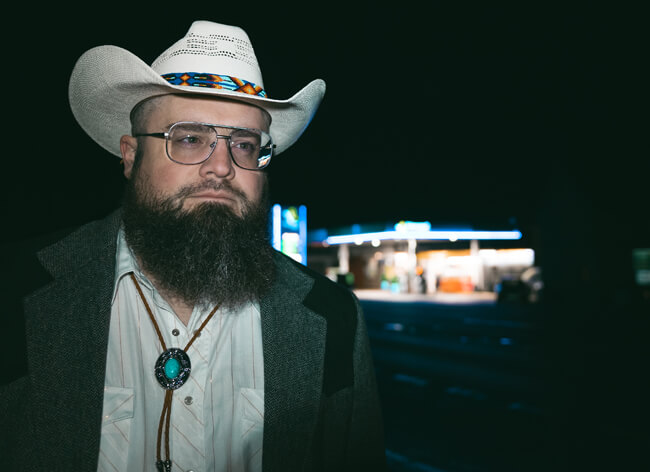 Siempre is the fourth studio album from Ags Connolly and marks a change in direction for the traditional country singer-songwriter – yet without leaving his trademark honky tonk sound behind. As with his previous record Wrong Again (2019) – named UK Country Album Of The Year at the 2020 UK Country Music Awards – Siempre was produced by Ags himself and recorded at Woodworm Studios in Oxfordshire with London-based players in guitarist Rob Updegraff, bass player Anna Robinson and drummer Chris 'CJ' Jones. Crucial contributions also came from San Antonio-based accordionist Michael Guerra (playing on his third Ags record) and Nashville fiddle player Billy Contreras. In addition, legendary UK pedal steel guitarist BJ Cole added dobro to one track.
Siempre takes the glimmers of Texas border sounds heard on Ags' last two records and merges them with Tejano music and barroom waltzes while also accommodating his honky tonk and singer-songwriter roots. "It's best described as a Texas music album", Ags explains. "Texas-style country is my favourite, and it takes many forms. I wanted to celebrate them all." For the Tex-Mex tracks, Ags taught himself to play bajo quinto, a traditional Tejano instrument. "I knew if I was gonna do it I had to do it right", Ags says. "Wes McGhee (the legendary UK country artist who spent years playing in Austin) told me you need the bajo for an authentic sound – he should know as he was making records like this decades ago." Ags pays tribute to McGhee on Siempre by covering his song 'Half Forgotten Tunes'. The number fits nicely in among the road odes and paths of uncertainty that traverse the album, drifting from loss to hope and back again.
Ags Connolly is widely considered to be one of the best country artists ever to emerge from the UK. His popularity in the US has grown considerably since the release of Wrong Again, and he has also established himself in countries like the Netherlands and Sweden that value his traditional sound. Siempre – which also features cover art by eminent designer Stephen Averill – is the next step in his growth as an artist and as a figure in UK country music.
"Modern day traditionalism of the very, very best kind"
– Bob Harris, BBC Radio 2
"This isn't British-style country music. This is country-style country music."
– Saving Country Music
"Killer…Ags has that old Lefty Frizzell feel in his voice"
– Tom Russell
Contact
Bob Paterson – BPA Live
+44 (0)1359 230357
bp@bpa-live.com
All content copyright BPA-Live