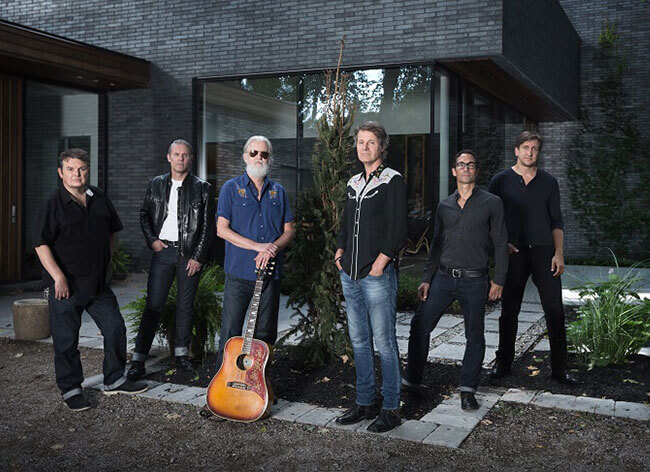 One of Canada's most iconic bands, Blue Rodeo released their 14th studio album, "
1000 Arms
", on Friday 28th October 2016. 1000 Arms was recorded over the winter of 2015/16 at Blue Rodeo's Woodshed Studios. The album shares its name with the Jim Cuddy-penned song inspired by a podcast Jim was listening to.
"The podcast was about allowing your community to help you," says Cuddy. "When we were going over titles, we were thinking about our musical community, what it means to us and how much we would do for each other. That was what we were thinking about the most, so it seemed like an appropriate title."
The 12-track record was co-produced and engineered by Tim Vesely, a founding member of the Rheostatics. Jim and his longtime bandmate Greg Keelor credit Vesely with helping influence the sound of the new album. The engineer had been listening to some of the band's older records and commented that Jim and Greg weren't singing together as much as they used to. The revelation caught the band off guard but the result brought the band back to what has always been one of their strengths.
"We made a very concerted effort to sing together on this album, either with direct harmonies or call and response, and we really enjoyed that," says Cuddy.
In the thirty years since forming, Blue Rodeo have sold over 4 million albums, won countless Juno awards, been inducted into the Canadian Music Hall of Fame, received a star on Canada's Walk of Fame, been named to the Order of Canada and have been honoured with the Governor General's Performing Arts Award.
Blue Rodeo is: Jim Cuddy (vocals/guitar), Greg Keelor (vocals/guitar), Bazil Donovan (bass), Glenn Milchem (drums/vocals), Bob Egan (guitar/pedal steel, mandolin), Mike Boguski (keyboards), Colin Cripps (guitar/vocals).
Contact
Bob Paterson – BPA Live
+44 (0)1359 230357
bp@bpa-live.com
All content copyright BPA-Live