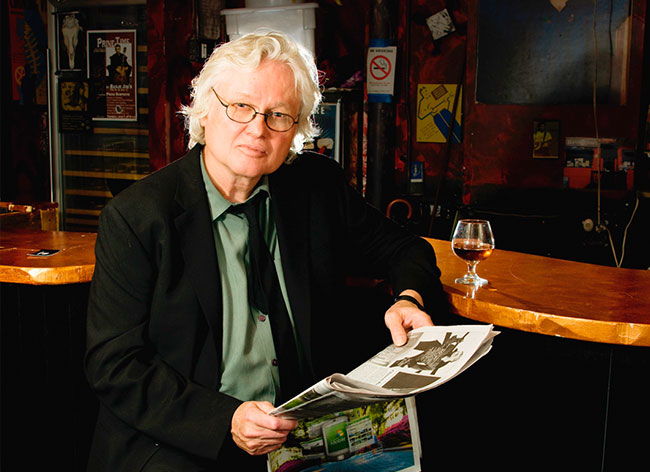 Songwriters Hall of Fame 2016 inductee Chip Taylor has been writing and performing for nearly 60 years and shows no sign of slowing down. The New York Times says it best, "
If you only know him as the guy who wrote 'Wild Thing' and 'Angel of the Morning' – you don't know him! Chip Taylor is making some of the most distinctive acoustic music around today.
" With the release of Little Brothers, a charming and intimate collection of new songs, and the EP I'll Carry For You (inspirational songs for the 2016 Rio Olympics) he continues to engage and delight music fans everywhere.
Creating distinctive music that is also enduring and influential has been Chip Taylor's métier over the course of what is closing in on five decades as "one of America's finest songwriters as well as a masterful singer and performer," says Rolling Stone. His two best-known songs are only some of the many pop, rock, country and R&B chart hits he wrote in the 1960s (Janis Joplin, Aretha Franklin, Dusty Springfield and Frank Sinatra all recorded his songs). Taylor was then one of the pioneers of the pivotal country-rock movement as a recording artist in the 1970s. His 1973 album, Last Chance, remains a beloved cult classic. But after refusing to play by the Nashville establishment rules, Taylor gave up music for full-time professional gambling in 1980.
"Chip Taylor could've rested on his laurels years ago and still been way ahead of everybody else today. Lucky for us he didn't and he's making some of the most relevant music out there," said Buddy Miller just last year. Since returning to music in 1996 he has enjoyed elder statesman stature within the Americana, contemporary folk and singer-songwriter scenes as an artist in his own right as well as in collaboration on albums and in performance with Carrie Rodriguez, Kendel Carson and John Platania. In a remarkable and prolific run, Taylor has released nearly an album a year since his return, each rising high on the Americana chart. As England's The Guardian notes, "Chip Taylor, like Johnny Cash, is well worth rediscovering by a new generation."
One of Taylor's recent albums, The Little Prayers Trilogy, was among the best-reviewed album of his long career. MOJO magazine called it "a masterpiece" while Uncut said it was the "Crowning glory of a storied career" and placed it on its Best of 2015 list. Country Music People gave it "Five stars .. nothing comes close."
Taylor has been involved in a series of amazing projects in the last several years. Norway's premier folk singer, Paal Flaata, recorded a full album of Taylor songs, Wait By The Fire, and rode it to the Top 10 and a Norwegian Grammy nomination. He joined with Carrie Rodriguez for a reunion tour this past fall behind the 10th Anniversary deluxe reissue of their Red Dog Tracks album. The Grammy-nominated Yonkers NY (2009) shows his facility with storytelling within songs. A collaboration/duet with John Prine – "16 Angels Dancing 'Cross the Moon" – was the centerpiece of a special vinyl release for Record Store Day last year. And coming in 2017 is a book/CD, Son Of A Golf Pro, which combines the story of growing up on the golf course with often hilarious songs about the sport, and a deluxe reissue of his three 1970s Warner Bros albums (including Last Chance).
As Taylor's muse continues to fire on all pistons, musical tastemakers agree that fans and listeners should tune their ears into the continuing creativity of a true musical master. "If names like Willie Nelson, Guy Clark, Kris Kristofferson and Townes Van Zandt mean anything to you, you should make a point of discovering Chip Taylor," urges critic Anthony DeCurtis. "Whether you know it or not, he's earned his way into that exalted company."
Contact
Bob Paterson – BPA Live
+44 (0)1359 230357
bp@bpa-live.com
All content copyright BPA-Live