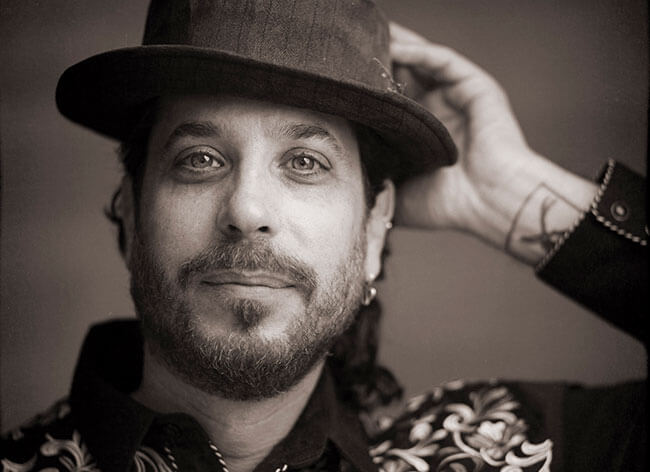 Named to the Chicago Tribune's "50 Most Significant Songwriters in the Last 50 Years," Austin, TX-based singer/songwriter Danny Schmidt has amassed a cult following for his stunningly poetic, poignant imagery. With lyrical depth drawing comparisons to Leonard Cohen, Townes Van Zandt, and Dave Carter, Schmidt is considered a preeminent writer, an artist whose earthy poetry manages to somehow conjure magic from the mundane, leading Sing Out Magazine's proclamation that: "Schmidt is a force of nature: a blue moon, a hundred-year flood, an avalanche of a singer-songwriter. His songs are a flood of poetry, mythology, folk wisdom, and surprise. He is perhaps the best new songwriter we've heard in the last 15 years."
Performing solo almost exclusively, armed with just his voice, his acoustic guitar, and his acute commentary, Schmidt's an authentic timeless troubadour, one man sharing his truth in the form of songs, unadorned and intimate. The understated effect can be startlingly powerful. As songwriter Jeffrey Foucault put it: "Everything about the man is gentle, except for his capacity for insight, which is crushing."
After garnering unanimous critical praise for his self-released Parables & Primes album in 2005, Schmidt's follow up release, Little Grey Sheep in 2007 began a streak of albums that charted at #1 on the Folk Radio Charts internationally. And on the heels of being crowned with one of the prestigious Kerrville New Folk awards in 2007, Schmidt won the notice of venerable Americana roots label, Red House Records, who began releasing his albums in 2009, alongside such notable artists as Greg Brown, Eliza Gilkyson, Jorma Kaukonen, and John Gorka, thus exposing his music to a broader audience.
Schmidt released three albums on Red House Records, including the critically acclaimed debut Instead The Forest Rose To Sing in 2009, the spare and intimate Man Of Many Moons in 2011, and culminating with the amorous duo album For Keeps with his partner, Carrie Elkin, in 2014.
Schmidt's latest release is a mystical collection of ethereal allegories entitled, Owls, released in mid-2015.
Contact
Bob Paterson – BPA Live
+44 (0)1359 230357
bp@bpa-live.com
All content copyright BPA-Live