When internationally acclaimed singer-songwriter Jason Ringenberg created his children's music character FARMER JASON in 2003, he had no idea he was launching what would prove to be the most commercially successful creation of his storied career. With JASON AND THE SCORCHERS, he pioneered the fusion of punk rock and country that turned the music world on its ear in the mid-1980s. Their first record, LOST AND FOUND, still shows up on critics' "best of the 1980s" lists, and there is an exhibit of them in the COUNTRY MUSIC HALL OF FAME. When Jason went solo in 1999, the LONDON TIMES called him "one of the most dynamic live performers of his generation." Jason could rest easily, assured that his place in rock 'n' roll history was secure.
However, with two sweet, beautiful, preschool daughters missing Daddy Jason during his 200 dates a year touring schedule, Jason wanted to make a CD that his kids could listen to while he was out globetrotting. Since they lived on a small farm near Bon Aqua, Tennessee, and Jason grew up on an Illinois hog farm, he reckoned that a roots oriented CD about farming and farm animals was just the ticket. Hence the first Farmer Jason CD, A DAY AT THE FARM WITH FARMER JASON, was born. He released it "purely for fun" in the fall of 2003, delighted to hear his daughters singing along to songs like THE TRACTOR GOES CHUG CHUG CHUG and A GUITAR PICKIN' CHICKEN. That was the peak of his ambition for it.
To his surprise, soon lots of other daughters and little sons were singing along as well. Disney's magazine FAMILY FUN called it "one of the Top 5 kids' CDs of 2003." Farmer Jason, Jason Ringenberg's "twin brother" (wink wink), was soon drawing sell-out crowds from Osh Kosh to Oslo doing children's concerts in venues ranging from schools and libraries to punk rock clubs. NO DEPRESSION said of his show: "Sounding as excited as a Captain Crunched 6-year old on Saturday morning, Farmer Jason dares you not to sing along. Resistance is utterly futile." In Spain, the CD became a hit among Spanish Harley riders! Interestingly, some of his best shows have been in big inner cities like East London and central Atlanta, proving that Farmer Jason is not just for sons and daughters of CMT watchers.
This brings us to the new CD, ROCKIN' IN THE FOREST WITH FARMER JASON. Again produced by eccentric studio genius George Bradfute, the CD brings to fruition the idea that both kids and parents can AND SHOULD listen to the same music. In Farmer Jason's own words: "We definitely had this as one of our goals: that a children's CD could successfully entertain and educate children, without making their parents want to blow up the stereo!"
This infectious concept album takes children to a musical forest where they experience its diversity and beauty. The songs, with their stick-in-your-head hooks, also teach subtle lessons about ecology, exercise, and history. In this age of instant gratification, how many family music artists would attempt to tackle a subject as complex as a Shawnee arrowhead, with its multi-dimensional history and grace? Farmer Jason does it successfully here; introducing listeners to a surprisingly complex musical ecosystem. Stylistically free ranging from high energy punk rock to spaced out jazz, Farmer Jason with producer Bradfute and studio ace Fats Kaplin pull out crazy oddball guitars, Turkish ouds, and instruments with no legitimate names to give the production ethos a quality that can stand next to any adult "hipper than thou" indie rock or alternative country release. "FARMER JASON HAS LEFT THE BARN!" Indeed.
Recording the CD was a process of pure joy. You can actually hear the musicians and singers laughing in the background. Todd Snider stopped by to deliver a hilarious duet and dialogue with Farmer Jason on HE'S A MOOSE ON THE LOOSE. The world's greatest bassist, VICTOR WOOTEN from BELA FLECK AND THE FLECKTONES, tagged along with his kids (who are friends of Farmer Jason's girls) to join in the gang chorus for PUNK ROCK SKUNK. Radio personality and Americana legend Webb Wilder added mysterious harmonies and whacked-out raps. Even Farmer Jason, who's normally uncomfortable in a recording studio, had a ball.
He's much more at ease rocking with a packed house full of his little friends. Come join in next time his tractor pulls into your town.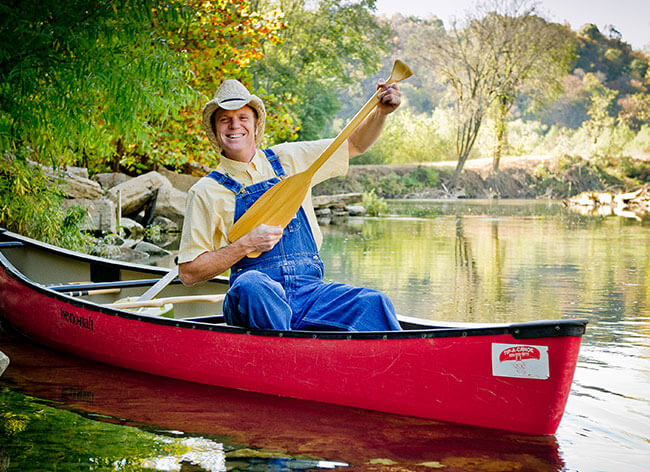 Contact
Bob Paterson – BPA Live
+44 (0)1359 230357
bp@bpa-live.com
All content copyright BPA-Live