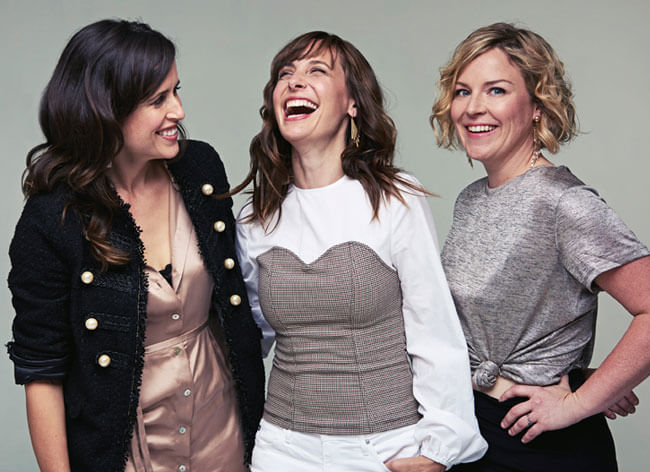 You hear it a lot these days – the idea that something is greater than the sum of its parts – and yet there's really no better way to describe the musical essence of the Good Lovelies. Kerri Ough, Sue Passmore, and Caroline Brooks – immensely talented vocalists and songwriters in their own right; however, it's their voices interwoven in harmony – powerful and pure, organic and inspiring – that elevates the Good Lovelies from impressive to peerless. Over the course of their decade-plus career, they've covered plenty of stylistic ground, adding tinges of pop, roots, jazz, and even hip-hop to their country folk core at various points.
The trio first united in 2006 for a one-off performance and has since compiled a catalogue of four studio albums, a pair of EPs, a live album, and Christmas collection. Through it all, the unmistakable sound of their intertwined voices has been the sonic anchor, and that remains true as the Good Lovelies now push further into the mainstream with their most accessible and pop-influenced output to date, Shapeshifters.
"Pop isn't just pop anymore," muses Brooks. "There are so many different influences and styles and layers working their way into pop music, and I think that's opened up doors for us, creatively speaking."
Their newest collection offers a perfect balance between a more modern production style and the musical influences that have made them a household name over the years. What's more, the songs themselves build on the Good Lovelies' familiar foundation with a widespread appeal.
"But that wasn't really a conscious decision," says Ough, of the more mainstream leanings of their new album. "We just let each other write what we wanted to write and bring ideas to the table and, as usual, went with what was strongest."
Therein lies another pillar of the Good Lovelies' charm – songs that are born of singularity but then brought into the collective fold. These are three individuals from different places at different stages of their lives bringing their barest and purest perspectives into a communal setting, and that was particularly emphasized with Shapeshifters.
"The pre-production sessions this time around were more private than with previous albums and that was intentional," says Passmore. "It was the three of us in a room, going through all of our ideas together with no distractions. Everything got attention in the collective space, so I think we feel a different kind of ownership over these songs. Everything came through us."
It's an approach that keeps the music and lyrics ever evolving but also entrenched in an ongoing sonic cohesion. In short, no matter what they're singing about or how, the product is purely the Good Lovelies – and as far as they're concerned, that's critical. "We've got an incredibly devoted group of fans that have been with us for years," offers Brooks, "so even though we reached into new places with these songs, we're still focused on doing right by them."
Even though the lyrics typically stem from the individual members, there are still overarching themes connecting the different cuts and presenting a unified vision. Some of the songs explore relationships with family and friends – sometimes through a lens of love and others through one of struggle. Others deal with looking for light in dark situations or dark times, and while that at times flirts with social or political commentary, it's never overt or overindulgent. And even when those themes are at their darkest, Ough says, "There's always love or hope somewhere in the background."
Both lyrically and musically, Shapeshifters is very much a snapshot of a specific time in the lives of these three musicians. "Every time we come around to a new record, there's an evolution, because we're all at new points in our lives." Passmore says. "But even then, the music on this record has come out of the three of us in a way that it really hasn't before, and that's exciting and invigorating."
If what happens next goes according to plan, though, the Good Lovelies will see their profile propelled to new heights thanks to a contemplative creative approach and a new spin on the signature sound that's earned them audiences and accolades the world over. The music, the album, and the trio – all are greater than the sum of their individual parts. Simply, that's the Good Lovelies.
"Shapeshifters is a brilliant album and, in a sense, the beginning of a new chapter in the musical life of the Good Lovelies."
– Spill Magazine
"Rhythms here sway and swing like a Bahamas record (check out Take Me, Take Me or Pulse and Flatline) and the richly textured vocal treatments at times recall the work of Pierre Marchand and Sarah McLachlan."
– Winnipeg Free Press
"Shapeshifters, the new release from Canadian folk-harmony trio Good Lovelies, combines the familiar sound of three voices raised in harmony paired with spacious keyboard and machine-like rhythms to full effect with the result being a curiously satisfying mix of hopefulness and the forlorn. The fact that their voices go together as if it was divinely decreed doesn't hurt in making all this work so well. Sounds not a little like the sonic equivalent of a glittering diamond on velvet. Performance: A+/Production: A+"
– Rod Nicholson, Scene Magazine
Contact
Bob Paterson – BPA Live
+44 (0)1359 230357
bp@bpa-live.com
All content copyright BPA-Live