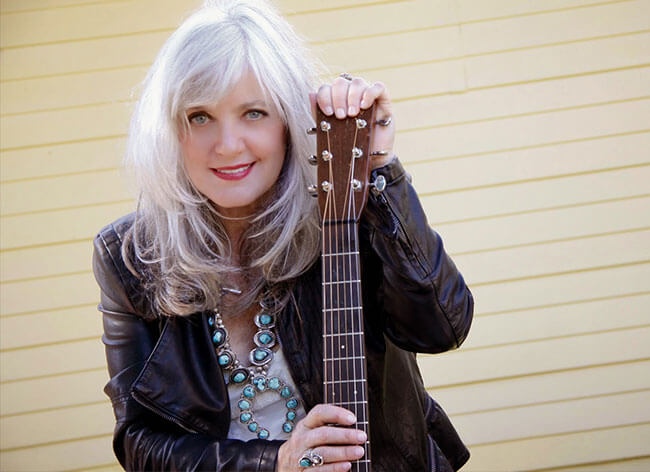 In her three-decade-plus career, Austin-based singer-songwriter Kimmie Rhodes has released 16 solo albums, written and produced three musical plays, published a novella/cookbook and written many multi-platinum songs, recorded by such stellar artists as Willie Nelson, Wynonna Judd, Trisha Yearwood, Amy Grant, CeCe Winans, Joe Ely, Waylon Jennings, Peter Frampton, Mark Knopfler, Emmylou Harris and others. A native Texan, she was raised in Lubbock, where she cultivated the spirited mix of talent and determination that still fuels her success.
After several years of sifting through archives and journals left behind by her late soul mate, beloved radio personality Joe Gracey, Rhodes has just put the finishing touches on her latest labor of love, "Radio Dreams: The Story of the Outlaw DJ and the Cosmic Cowgirl," a "duet memoir" that weaves her own poetic prose with wry and witty musings from Gracey, who died in 2011.
Slated for release in spring 2018,"Radio Dreams" invites readers into their private world, returning Joe to the conversation to help tell the fascinating story of their lives. Her trippy songwriter's tales and his alternately hilarious and poignant writings take readers on a time-machine adventure, from Saturday mornings spent watching country-and-western TV stars to the wild '70s era in which Vietnam war-protesting hippies, weary of the fight, kicked back with rednecks to play some music in the "Groover's Paradise" of Austin, Texas.
Riding with fellow outlaws Willie, Waylon, Emmylou, Cowboy Jack Clement, Stevie Ray Vaughan, Doug Sahm and other famous — and infamous — characters, they helped turn Austin into a music scene and outlaw country into a sound before facing Gracey's final cancer battle. Through triumph and tragedy, grief and gratitude, their story speaks of the extraordinary life and inspiring love they shared.
Rhodes and celebrated radio presenter Bob Harris of BBC Radio 2 also have co-produced the book's companion audio documentary; Harris describes the components —tapes, records, airchecks, vintage broadcasts, interviews with artists such as Delbert McClinton, Rodney Crowell, Beth Nielsen Chapman and Marcia Ball and even phone messages left by Willie and Waylon — as a treasure trove of music history. In spring 2018, Rhodes and Harris, accompanied by her son, guitar virtuoso Gabriel Rhodes, will embark on a "conversation with" tour of theaters in Britain and Ireland to share stories and music.
At her own Sunbird Studios, Rhodes recently hosted some of the Austin's finest singer-songwriters to film a segment of Harris' iconic "Back To" series for WBBC-TV. An airdate for the "Back To Kimmie's" episode will be announced soon.
Rhodes also has been serving as an associate producer on filmmaker Eric Geadelmann's six-part documentary, "They Called Us Outlaws." Dedicated to the memory of Joe Gracey and Waylon Jennings, it will be presented in association
with The Country Music Hall of Fame and Museum, along with related events, in spring 2018.
In her role as honorary ambassador for The Buddy Holly Educational Foundation, Rhodes visits Glastonbury, England annually to attend Squeeze co-founder Chris Difford's songwriting retreat at Pennard House, where established singer-songwriters share knowledge and co-write with aspiring young talents. Foundation co-founders and Holly's widow, Maria Elena Holly, recently celebrated Rhodes' efforts by presenting her with a custom-made guitar crafted by famed luthier Alistair Atkin. A replica of Buddy Holly's 1943 J-45, the guitar is encased in hand-tooled leather featuring the words "Lonesome Tears," the Holly song for which it's named. Fellow ambassadors with whom Rhodes shares this special honor, each presented with a uniquely titled guitar, include Paul McCartney, Keith Richards, Pete Townshend, Dolly Parton and Bob Dylan.
"Kimmie Rhodes: The soul of a poet and the voice of an angel." – Rodney Crowell
"Kimmie has the voice of a beautiful child coming from an old soul. She touches us where the better angels of our nature dwell, and I believe we need that now more than ever. If you haven't before, do yourself a favor and bring her into your listening life." – Emmylou Harris
"While there's a department of it in Washington, D.C., one must really question if there's any justice in a country that can't recognize what Willie Nelson did years ago: that Kimmie Rhodes is an "undiscovered superstar." Yes, he was probably smokin' something the Feds would frown upon at the time, but the fact remains that native Lubbockite Kimmie Rhodes is just as deserving of mention in the same revered breath with fellow West Texan musical legends such as Buddy Holly, Roy Orbison & the Flatlanders." – Lone Star Music
Contact
Bob Paterson – BPA Live
+44 (0)1359 230357
bp@bpa-live.com
All content copyright BPA-Live