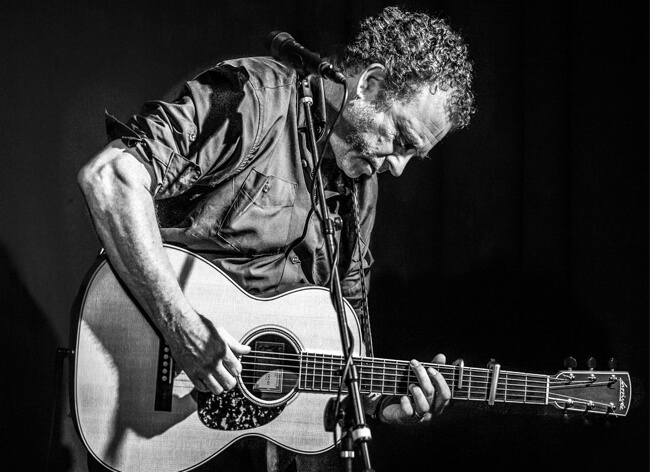 An Iowa-bred, Tennessee-grown, down-to-earth American original, Nathan Bell creates spellbinding live performances with a combination of impeccably sung stories and dazzling musicianship not always found in the singer-songwriter genre.
With a keen eye and ear for the lives of working people, struggling people and forgotten people, Bell has honed his decades of commitment to blues, folk, jazz, poetry and justice into a sound and spirit all his own.
The son of famed Iowa poet Marvin Bell, Nathan grew up attuned to the power of plain, spare language to evoke places and narratives that stir both the heart and the brain. He moved to Boston in the 1980s and refined both his writing and his guitar playing while paying his dues driving a fish truck and working long hours in a hotel restaurant receiving room.
Bell returned to Iowa as part of the folk duo Bell and Shore, and garnered national attention for his vigorous, literate and often funny songwriting, as well as his virtuoso arranging and guitar playing. After recording two critically acclaimed albums, Bell moved to Nashville where he worked with producer Richard Bennett (Steve Earle, Emmylou Harris, Marty Stuart) and tried his hand at writing in the Twang Town music machine.
As marriage and children arrived, Bell put down the guitar and joined the corporate world, returning after a 15-year hiatus with the expanded perspective that comes with age and responsibility. Weathering the pain of layoffs, the unmooring of the Great Recession, and the frustration of an increasingly deranged American political landscape, Bell's new songs reflected his newfound insights into love, greed, abandonment and injustice.
His self-recorded "Family Man" quartet of CDs, as well as his enthralling live shows, earned Bell a loyal and growing following among devotees of the well-written song, expertly presented, in the U.S., Europe and the U.K.
In 2019, Bell recorded a new set of songs with producers Brian Brinkerhoff and Frank Swart (Malcolm Holcombe, Guitar Shorty, Kool and the Gang). Scheduled for release in autumn 2020, "Red, White, and American Blues (it couldn't happen here)" features guest vocals from Patty Griffin, Regina McCrary, and Aubrie Sellers.
Contact
Bob Paterson – BPA Live
+44 (0)1359 230357
bp@bpa-live.com
All content copyright BPA-Live