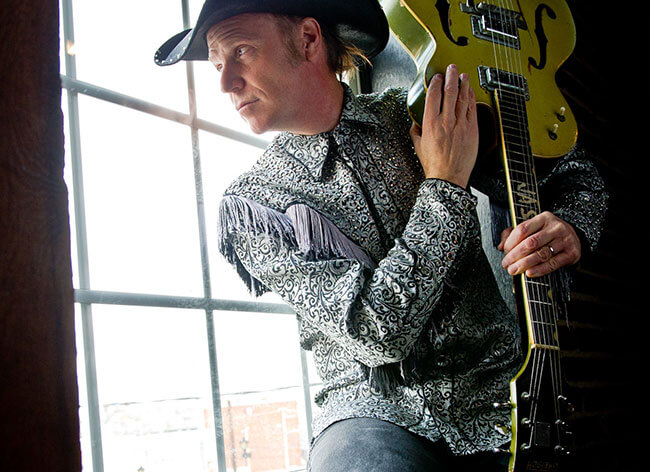 Jason Ringenberg's Fruits of Honest Labor 
by Tommy Womack
A couple of years ago Jason and I were doing a run of dates together through the snowy Midwest. I was road-ragged and he was fresh as a daisy. He'd driven across Alaska not long before and spent six weeks in Sweden and England and Holland before that! We got to talking about farm life and how Jason and his brother grew up feeding the hogs at five in the morning everyday. "You know," Jason said to me, "My brother and I worked ALL the time. It was incredibly hard work for an adult, let alone a skinny 9 year old boy. It was a never ending cycle feeding the hogs, cleaning out the hog houses (by hand), hauling water and straw, or working the fields. It didn't matter if it was New Year's Day or 105 degrees in the shade, the work never stopped. We never thought a thing about it. It's just what we did." It's still what he does. That work ethic learned early, and his boundless energy, came to make him the force he became in later years.
Something changed for young Jason when he heard George Jones & Tammy Wynette's "Golden Ring" coming from the radio in the barn one morning, across the prairie wind to a nearby thoughtful, hard-working young man who fell in love with music then and there. From then on, Jason was going to be a musician, and he knew it there and then.
The Rock Island Line ran right past Jason's family's farm. After school, after chores were done, Jason would take off walking down the middle of the track, playing his harmonica, playing his guitar, and singing the way young singers belt it out when they know no one can hear them. To this day, there's a bit of the Rock Island Line in Jason's singing and playing. It comes honestly. In the fall of 1978, Jason's life changed when he went off to college to Southern Illinois University, where it's a party in Carbondale every night of the week, where it's 300 miles south and actually gets warm, and it's a place…where bands form!
Jason wasted no time. He was ready. There was another Jason to let loose. A Jason I think he cultivated walking the Rock Island Line blowing his harp; he was to become not Jason the hog farmer, but Jason "the rockingest folk singer that ever lived."
His first band at college was Shakespeare's Riot. For two years they made their name on the SUI club and frat circuit, and Jason, the new Jason, burst out at people. It was in Carbondale that Jason truly became Jason, part Hank Williams, and part Iggy Pop. Shakespeare's Riot recorded once or twice, (including the first-ever rendition of the future Scorchers classic "Help! There's a Fire!") and then they went the way of most college bands, with the shifting memberships and guys having to get real jobs and all. Besides, none of them were Jason, and he had a mission. After a brief stint in a new rockabilly band, the Catalinas, who never recorded, Jason set off on his mission. Fittingly on the birthday of our nation, July, 4, 1981, Jason Ringenberg took off in the van he'd bought for the bands (and which the Scorchers would later get two years' use of), along with all the gear he owned, including a PA, he moved to Nashville, on the nation's birthday, in search of his American Dream. "I went to Nashville to form a great American rock band." Jason once said, "I wanted musicians who sounded like they had dirt under their fingernails. And I got that." Did he ever.
He also got a taste of the Nashville underground: not the Music Row scene, but the seedy underbelly in clubs like Cantrell's and Rooster's and the Exit/In, where people dyed their hair black and smelled of patchouli. If Carbondale had been an eye-opener, this was something else! He was a fish out of water there, but that didn't hamper him long.
It wasn't long before Jason was out rocking in front of the first version of the Scorchers, decked in a cowboy hat and a silky fringed country opry shirt. This band then included Jack Emerson on bass, a man who would eventually quit the band in order to manage them. His replacement, Jeff Johnson, brought along his cohorts to round out the final quartet: Perry Baggs for the drums and for a lead guitarist, Warner Hodges, a stinging string-bender with an incendiary stage presence to match Jason's. It was loud, it was maniacal, and it was so crazy that it was something new. Jason and the Nashville Scorchers were born.
They did originals, they did county classics the way the Ramones might do them, and every now and then they quieted all down and played a country weeper so sweet and true that everyone came away knowing they knew what they were doing inside-out. This wasn't a joke; it was a new music and a new age.
Their first release, a 4 song EP on Jack Emerson's new Praxis label, "Reckless Country Soul" (1982), smoked with that energy, and spread the word around the south as the Scorchers became a regular favorite opening act for the equally young, club-playing R.E.M. Their follow-up mini-LP", "Fervor" ('83) remains one of the great rock albums of all time. Practically every cut on it has been a Scorchers mainstay live. Classics like "Help! There's A Fire" (resurrected from the Shakespeare's riot days), the spooky "Pray for Me Mama" exposed their country roots and "I Can't Help Myself" and "Both Sides of the Line" showcased the maniacal, beyond insane thing the Scorchers had, what I call that Sex Pistols thing, where you just want to bang your head and get lost in the rock. Jason & the Nashville Scorchers exploded further.
Then it happened nationwide when EMI signed them and re-released "Fervor" with an extra cut, another future staple, Dylan's "Absolutely Sweet Marie", a rare Dylan cover that's damn near better than the original. The New York Times picked it as "EP of The Year". They hit the road with a vengeance, every show a firestorm of rock and roll mayhem with a tender ballad here and there. The nation took notice. London took notice. When they played The Marquee Club it was so packed that Bill Wyman couldn't get in and a reviewer wrote of it as one of the top 5 shows London had ever seen.
Next came "Lost and Found" in '85, which was like "Fervor" with a budget. Warner's crunchiest guitar sounds can be found here and "White Lies" was a bona fide MTV hit. They toured the world over some more, creating Scorchers acolytes wherever they went. "Still Standing" came in '86. The title referred to the toll it takes being one of the greatest rock and roll bands in the world night after night and mile after mile. Another year of touring and the axe fell from EMI, because the Scorchers' sales, while not bad, were never stratospheric; and Jeff left the band as well. It was a long three years before "Thunder & Fire" came out on A&M (1989) the debut (and swansong) of a second, short-lived Scorchers: a quintet with additional guitarist Andy York and bassist Ken Fox. Unfortunately, A&M was sold the same day the record was released and promotion didn't happen. Not long after that, Perry Baggs collapsed in France with his first onset of serious diabetes. Jason & Warner did a couple of duo gigs opening for Bob Dylan to fulfill contracts, and then they flew home…. And it was over. No press release, no farewell tour. No nothing. One of the greatest rock and roll bands of all time was simply not around anymore.
After that, Jason decided to try Nashville the traditional way, and found himself on Liberty Records, giving a genuine Music Row album a chance, with professionally written songs from other people, session musicians and the whole slick ambience of a Music Row record. "One Foot in the Honky Tonk" (1992). The record didn't catch on and it didn't last as a career, but another miracle was in the offing.
The old band got back together in 1993, instigated by Johnson. He rallied the others to the cause of a trial reunion, and suddenly Jason and the Scorchers were out playing again, to audiences stunned to see their names on posters at clubs after all this time. And they still had it. Suddenly things were possible again. Mammoth signed them.
"A Blazing Grace" ('95) and "Clear Impetuous Morning ('96)were great records and cemented that the Scorchers were back. Then Jeff left again, on good terms – he just didn't like the road life anymore – and the other three soldiered on with Kenny Ames on bass. In 1998, they capped their career with a double CD live set "Midnight Roads and Stages Seen." And then they were done. A second time. "After Midnight Roads, I felt the band had made all the statements it needed to make, and had in fact accomplished our creative goals." Jason says, "I unilaterally put the band into semi-retirement, and moved on."
Jason carried on into another fine period. He started his own Courageous Chicken label, and released the wistful, folkie, second shot at a solo debut. "A Pocket Full of Soul" (2000) earned rave reviews and put Jason Ringenberg as a solo act on the map. He dived into the way of life of the modern day troubadour. A solitary man on the road playing an acoustic guitar and singing, only solo Jason wasn't really that much different from the Scorchers Jason! He rocked and flailed and danced as if Warner, Jeff and Perry were all around him. And his fans loved it. He found himself touring as much as the old days, even more. Next was "All Over Creation" (2002) with each track a duet with one of Jason's favourite friends/artists (yours truly included) such as Todd Snider, Steve Earle, Swan Dive, Kristi Rose and Lambchop. Another year of touring followed.
2003 saw the evolution of yet another Jason, as a children's music performer! With the release of "A Day At The Farm With Farmer Jason" (2003) Jason's alter ego Farmer Jason became as big a hit as the original guy, and he's donned overalls, a straw hat and sang about how there's a "Moose On the Loose" and "Punk Rock Skunk" to squeals of children's delight all over the world now. He was already touring 200 dates a year, now he's winding up in cities early on so Farmer Jason can play for kids at an early show and then Jason Ringenberg can play that night. Rhino Entertainment recently released "Rockin' In the Forest With Farmer Jason!" (2007) and much more is on the good farmer's horizon. It's hard work, but he never thinks about it.
In 2004, Jason made his most courageous record ever. "Empire Builders" took on the Bush Administration and all its fallout and put it into words and music like he never had before. Not everyone took kindly to it either. It was the first time he'd ever experience much hostility to his work, which isn't overtly political anyway, given how it includes the beautiful "Eddie Rode the Orphan Train" and a rocking tribute to Link Wray.
His new release "Best Tracks and Side Tracks" is a 30 year retrospective of Jason's trip from the farm to the credible echelon of the music business. (Yes, it's been 30 years!) It's a "best of" but not quite. It plays like an album done at one place at one time which it certainly isn't. There are some of the best tracks from Jason's recent solo albums, and some damn fine nice renditions of Scorchers classics re-done in a very intelligent decision not to replicate the originals, with the possible exception of Jason & The Wildhearts tear-up thru "Jimmy Roger's Last Blue Yodel". There are also outtakes and history revealed for the first time: Jason's long-delayed recorded debut of Shakespeare's Riot.
In the coming year, around 200 days of it, a lanky gentleman with a hat on will stroll into yet another bar or school library or maybe both in one day. He'll be alone, no tour manager, he'll have found every place he needed to, he'll set up his own gear, his own merch station, and somehow, with a reserve of energy he's always quietly had, the Illinois farmhand will change into his silky fringe shirt and his leopard cowboy hat and tear the place apart like he'd just had eight hours of sleep and a Cracker Barrel breakfast. And he'll do it the next night too, and the next night, travelling alone with his gear, luggage, merch and thoughts.
In 30 years of this kind of life, he's maintained a prolific catalogue, a stellar reputation as a wild live performer and an ability to change with the times and the situations, one of them now his being a big hit with the pre-teen set. That young hog farmer made his way from Illinois prairie to Nashville and the sights he set on walking that Rock Island Line, he's attained. He's in the Country Music Hall of Fame; he changed the Nashville music scene for good. A whole lot of what's considered the current "Americana" scene would be inconceivable without Jason & the Scorchers. And it's a good world when Jason, at least, is still around, still creating, still working hard, feeding those hogs and not questioning it one bit.
Find more about Jason Ringenberg's award-winning Farmer Jason children's show.
Contact
Bob Paterson – BPA Live
+44 (0)1359 230357
bp@bpa-live.com
All content copyright BPA-Live